Florist Wyoming MI
Are you looking for a florist in Wyoming MI? Give our shop a call at (616) 956-6747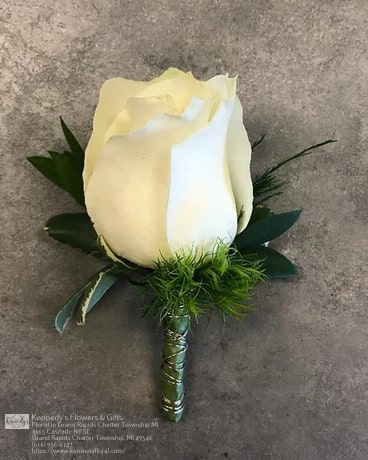 The Best Florist Near Me
Kennedy's Flowers & Gifts is a florist in Wyoming MI. No history of flowers is complete without finding out about the stories behind it. Because of that, we're here to give you a run-through on flower meanings and different arrangements! This crash course will help you understand the meanings behind both popular and rare blooms. Then, we consider the progress of its position in ancient history. In this article, we talk about a quick overview on the roots of flower meanings. Later, we look at how it molded human behavior and culture across time. Peaking in the Victorian era, flowers still have a large role in human connections. In fact, it has a role in our relationships with friends and loved ones. Of course, people also found its merit as a means to express one's emotions. Flowers also remain valuable to creative works for their symbolic meanings. This included legends in ancient mythologies and folklore. Eventually, this also featured sonnets, plays, and productions in the Renaissance period. Interested in a formal program on floristry? Want to get verified as an expert on everything flower related? We suggest looking into professional bodies and colleges in floristry. These include American Institute of Floral Designers of the AIFD (www.aifd.org), the Society of American Florists (www.safnow.org), the American Floral Endowment (www.endowment.org). You can also check out similar organizations offering classes in floristry.
Call Kennedy's Flowers & Gifts the flower delivery experts in Wyoming, MI or surrounding areas today for your free estimate or if you have any questions, give us a call at (616) 956-6747

Find A Florist In Wyoming MI
Florist Services
Brief History on Flower Meanings. The language of flowers, from The Natural Wedding Company. Ever think about violets and their importance to Sapphic relationships? How about sunflowers and daisies and their popularity in friendly floral bouquets? Or the climb of roses to their status as a favorite flower? Whatever it is, we're here to help you. This article will take you through the development of flower meanings throughout time. Since its climax in the Victorian times, flowers have influenced the production and retelling of many art forms. This involved mythologies and legends in ancient cultures. Later on, it showed up in plays authored by world famous artists like William Shakespeare. The Victorians were so into flower meanings that they put together entire handbooks for it. It was one way for people to make sure they got their bouquets and floral arrangements right. Today, flowers carry the same importance in expressing one's emotions. This of course, extends to showing sentiments to their special someones and loved ones. Everyone has an idea of the basics of the language of flowers. Red flowers, especially roses, display your love and passion for that special someone. Yellow flowers signify friendship. White represents purity and innocence. And so on, so forth. But how complex does it go?
Flower delivery
Flower designer
Gift shop
Weddings
Funeral Service
Design Workshops
Flower and Plants
Why Choose Kennedy's Flowers & Gifts Services?
Does the meaning change when combined with other flowers, other colors, other arrangements? Does it matter if the mixture of flowers is a blend of various species or only one species? Does it matter if the arrangement leans to the left, the right, or stands still and upright? The short answer is, yes. There are widely accepted meanings for each color. But there are further differences to each color for different species. Colors and Species Flowers usually mean pleasant things, like passion and affection. They can also just as easily express negative emotions such as conceit and disdain. For example, red roses are a clear display of feelings for another. At the same time, red tulips are a love declaration from one person to another. In the same way, white violets meant innocence, but purple ones meant feelings of love. Pink carnations said "I'll never forget you," while pink roses meant poise and gentleness. While calla lilies represented stunning beauty, peonies represented bashfulness, and tulips expressed passion. Of course, even the presentation of these flowers and particular arrangements matter. Trust us, you'll need it if you want to properly interpret the meaning behind flower gifts. Arrangement and Presentation.
Flowers offered people a very exquisite means of communicating. Suitors made use of them when trying to woo the object of their affections. Friends made use of them to give condolences to a grieving family. Now, people also gift flowers to celebrate their loved ones' birthdays and achievements. We've gone over the different meanings that a species' various colors may represent. Now, we take a closer look into the specifics of arrangement and presentation. We also discover how they may change or amplify the message that we would like to send. Here is a terrific example. Suitors usually made use of tulips, roses and carnations to confess their love. Women answered one of two ways. Some gave the suitor yellow carnations to express disdain and rejection. Some were more reserved and responded to their suitor with how they handed over a bouquet. Giving with the right hand said "yes", while the left hand meant "no". Additionally, the presentation and form of the bouquet added meaning to the present. For instance - giving the arrangement upside down. This symbolized that the giver meant the reverse of what the flowers typically meant. Another good example is the angle of the ribbon binding the arrangement together. The meaning applied to the giver if the ribbon pulled to the left. The symbolism represented the recipient if it went to the right. Left: Language of Flowers, from Exquisite Banana; Right: What does your arrangement mean? From Pinterest List of Flowers, Bouquets, and their Meanings As we've learned, flower meanings have evolved and developed over time. Today, they remain important in our relationships and how we express ourselves. Here is a quick compilation of various species and their meanings. This also features variants from the colors they come in.

Florist In Wyoming, Michigan
Are you in the Wyoming, Michigan area and are looking for a business that does flower delivery near me? Are you interested in having fresh flowers delivered? If the answer is yes, you have found a great a resource to take care of all your florist needs. We are the best florist in Wyoming, Michigan. No arrangement is too big or too small for us. We provide full-service floristry services.
Kennedy's Flowers & Gifts, commitment to you is 100% satisfaction on all your floral and gift purchases. If you are not completely satisfied, let us know by calling (616) 956-6747. We serve the areas:
Top Flowers for Every Season. Best Flowers to Present and Get for Any Occasion. Flowers have belonged to human life and relationships since time immemorial. It has been present in gifting customs and standard home decor alike. It goes without saying, flowers have been a staple in the way humans interact with one another. In fact, people have come to express their sentiments through different forms of art. This ranged from paintings, sculptures, tapestries, 3D installations, to delicate floral designs. As such, it's certainly handy to bear in mind which flowers blossom in which season. And, of course, which blooms are perennial in their all year long bloom. It's all the more helpful to know what flowers are best available to mix in a floral arrangement. That way, you can be sure you give only the most supple and attractive flowers to your loved ones. Need a simple last-minute gift? Want to give your workaholic pal some low-maintenance plants for the workplace? Think your house could use a little bit of sprucing up? Then read ahead! For this post, we take a look at the various flowers rated most lovely and popular. Using this guide, you'll be able to gain a good understanding of flowers and the seasons. We've collected expert opinions from local florists across different cities. Given that, this lineup is great for people who wish to get into gardening and floristry. Interested in a formal program on floristry? Want to be an accredited expert on everything flower-related? You can also look at other organizations that offer programs on floristry. Top Flowers for Every Season. There are fruits that ripen and taste best for each certain season. Likewise, most flowers bloom most beautifully in certain seasons. Some, of course, are lucky to keep a vibrant and healthy glow all throughout the year. We give you a catalogue of the most ideal flowers to get for each of the four seasons. Then we discover which blooms you can add in with your floral arrangements any time of the year. Like the warm feeling of spring? Like the sizzling heat of summer? Like the cool gust of autumn? Enjoy the frosty winds of winter? Whatever your favorite weather is, here are the top florals for every season!
Wyoming, Michigan
Wyoming is a city in Kent County in the U.S. state of Michigan. The population was 76,501 at the 2020 census. Wyoming is the second most-populated community in the Grand Rapids metropolitan area and is bordered by Grand Rapids on the northeast. After Grand Rapids, it is also the second most-populated city in West Michigan. Wyoming, Michigan coordinates 42°54′49″N 85°42′20″W.
Florist Wyoming MI - Free Estimates - Call Today (616) 956-6747